One Day You Will... September 19, 2016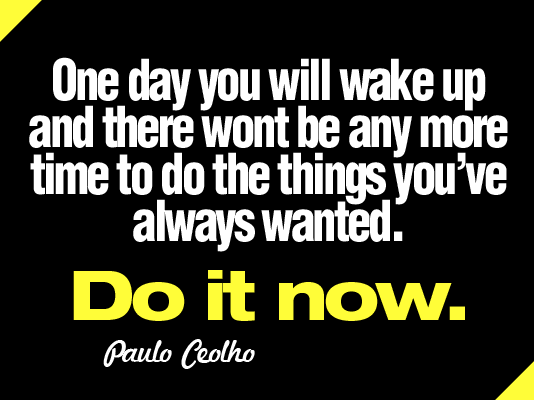 Monday Motivation By Your Realtor Denis Hrstic
I hope you had an amazing weekend! As always I like to start the week off right with some words of inspiration.

Saw this quote from Paulo Coelho and thought it was a great lesson for today…
"One day you will wake up and there won't be anymore time to do the things you've always wanted. DO IT NOW"
So often we have big plans or ideas that we want to implement but we get complacent, time passes and our ideas fade. It's awesome to think big and dream large - BUT we must take action on these ideas and start working on them NOW.
What was the last idea that you wanted to get started ?? Did you do it ? Did you make that call ? Did you talk to your spouse? Did you set the meeting? The best time is NOW.
Focus on implementing your idea, whatever it is, make it happen today!
Have an amazing week, if there is anything you need, please feel free to reach out anytime :)
Sincerely,
Your Realtor Denis Hrstic